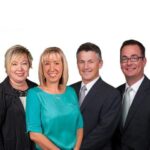 The McRae Team has been serving clients nationwide for over 14 years. Our team takes a strategic approach to home financing to ensure that the mortgage loan selection aligns with the client's short term and long term financial goals. We take great pride is designing various options and solutions so the customer has a clear, comfortable picture of their selection, a mortgage is for most people the largest asset on their balance sheet, and should be treated with equally large importance.
In addition to providing all standard, comprehensive mortgage options(Conventional, FHA, VA and USDA) The McRae Team can also provide unique, portfolio loan mortgage options for situations that do not fit the typical mold by utilizing common sense decision making. Our greatest satisfaction comes from helping as many people as possible achieve their home ownership or refinance goals.
Brian McRae | Senior Vice President Residential Lending | NMLS # 595479
The whole team was very helpful and great to work with!!
Good communication on a short timeline.
From beginning to end this was a great place to get a loan. They worked hard to help us get the best loan possible for our situation.
Thank you for your help and persistence in refinancing our mortgage. Great job staying on top of everything and keeping us in the loop.
Mary Krummenacher was a great leader and the people my wife and I needed were in her team, good, friendly and very helpful. This idea of a team worked very well.